We've recently welcomed a new addition to our household making us an official family of seven and me an official mom of five! Does this qualify me as a "super mom"? Well, yes and no. To me every mom is a Super mom. I mean, lets face it, being a mom is tough! Our nights are often sleepless, are days never ending, and breaks are non-existent. But I, like most moms, wouldn't change a thing. I've just learn to adapt and take any tips that might make our days and nights run smoother into consideration.
While all children are different; some are clingy, some independent; some cry all night, some sleep right through. One thing all children have in common for the newborn stage to the toddler stage is that they all need to eat and they all need to be changed! Of all my personal mom tips and all the ones I've learned along the way, diapering and feeding tips were always the most useful. So, I am thrilled to be partnering with Huggies and diapers.com, sharing tips for smart parenting. I have a lot of time saving tips running through my mind, but like I said, I know what I found most helpful and it really seemed most fitting for this article, for me to share my favorite and sometimes
time saving tips for diapering
.
Little Movers and Shakers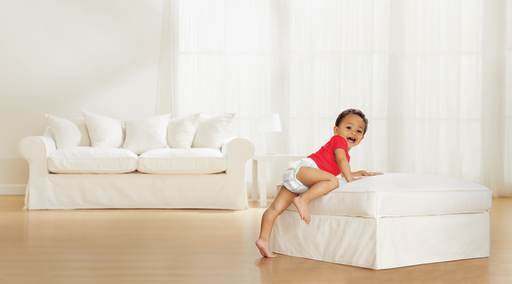 In a blink or the eye are babies go from bobbly headed newborns to movers and shakers. That's right, nothing is stopping him or her now, not even a diaper change! When your little antsy pants no longer seems to have the time to sit still, distraction is key. Make silly faces, sing songs, or dedicate a special toy for diaper changing time. Make that toy or even a book, one they don't always get to play with, so their attention is really drawn to it, rather than you and the business below you're taking care of.
It's around this time that I usually reevaluate my diaper choice as well. What kind of diaper do you look for, for an active baby? The diaper should fit your baby snug around both the waist and around the legs to prevent leakage, but have the flexibility to move with baby. If a diaper is leaving marks on your baby's skin or appears to be irritating in these areas it might be time to upgrade to a larger size.
Huggies Little Movers are my favorite at this stage, made to let baby explore in comfort, while saving time for mom by preventing leaks. They are specially shaped to contour around the legs, so they form a close, comfortable fit, yet are flexible to move with active babies. They make for a great fitting diaper, which my kids were less likely to break free of and they didn't get that diaper sag that seems to happen with diapers as babies get older. (Buy Huggies Little Movers Online)
Mastering the Vertical Change
One step beyond the little movers and shakers is the walker. And this little guy (or girl) may be so eager to get up and go you won't even have the chance to distract him, because he won't even lay down! Yes, we've all had to do the vertical diaper change for one reason or another and that's when Huggies Little Movers (Slip-ons) will come in handy. You're able to simply slide them on, and they can easily be removed from the sides, so you don't have to slide the diaper through the legs. If you have no slip-ons on hand you can prefasten a diaper and slide it up the legs. You can always adjust the tabs once the diaper in in place. I've also found most diapers that fit into the walker or mover category have sides that can be easily torn away regardless of the style. Again this will save you from having to yank it through their legs
.
Be Prepared!
As a mom to four sons, I can tell you "pee happens!" And a lot. Always keep a cloth or wipe handy to place over his area during diaper changes to prevent a spray. These "sprays" will not only end up usually soaking you, but they can go in reverse and your little guy can wind-up spaying himself in the face, along with his clothing and changing area too
.
Boy or girl you'll also want to take note if they are actually done pooping. A lot of times when you press their legs back for a changing it can actually stimulate them to go more, either wasting a clean diaper or creating one heck of a mess if you don't have a fresh diaper in place.
And since we're already talking the messy stuff, I recommend always having a bottle of hand sanitizer within reach. Yes, we all know how important it is to wash our hands after changing baby, but what about your trip from the changing area to the sink. Usually you'll have to handle your baby to move him into a secure location before you can wash up. My rule is sanitize, move, then wash. But, I will admit I'm a germaphobe.
Making it through the night
Is your baby waking up often due to a wet diaper or you find his diaper leaked overnight? If you find that your diaper isn't performing as well at night, trying going up a size. A larger size diaper usually can absorb more, keeping baby drier and resting more comfortably through the night.
My little guy has started sleeping almost completely through the night (yay, me!). To keep him dry and protected we use Huggies Snug & Dry diapers. With absorbent LEAK LOCK® Technology baby gets up to 12 hours of leak protection and the Surefit® waistband keeps his diaper in place - no matter how much kicking and moving he does. For a little guy he sure can get around at night!
Buy It Online
As a mom there are many different reasons running up to the store is no longer convenient. When you have a newborn in the house you worry about taking them out to soon. You're overwhelmed with all that comes with a new baby. As your child gets older, outings become either easier or more difficult. For me, taking 5 kids into the grocery store no matter how well behaved is always a chore. And every child is prone to those meltdown days. I always have my figures crossed tightly that meltdown isn't going to occur in the middle of aisle 3!
Diapers.com offers moms the time saving convenience of having your biggest baby needs delivered right to your door step; no struggling in the supermarket, or worrying about taking out baby. And right now Huggies together with diapers.com are bringing you an exclusive discount on your first purchase of a Huggies diaper case! By using coupon code

WOWHUGGIES

you'll get an amazing saving of $12 OFF your purchase of Huggies! So, share the news with a super mom in your life, or head on over to Diapers.com yourself and rack up the savings and check out additional deals like free shipping off your first purchase of $49 or more*
Thank you Huggies for sponsoring today's post, and helping me share my time saving tips!
*offer only available to new diapers.com members.