This post brought to you by
Comfort and Harmony
. All opinions are 100% mine.
When preparing for a new baby there are so many products out there it's easy to become overwhelmed; especially when trying to decipher what you need and what you don't. After four kids you can bet I have a lengthy list of must-haves and complete wastes of time/money. Today I want to touch on a simple product I don't think immediately comes to everyone's mind. A nursing pillow.
Nursing pillows have come a long way since I had my first child, just take a look at the Comfort & Harmony Mombo Deluxe Nursing Pillows. Whether you'll be exclusively breast OR bottle feeding, I rate this pillow as an absolute must-have.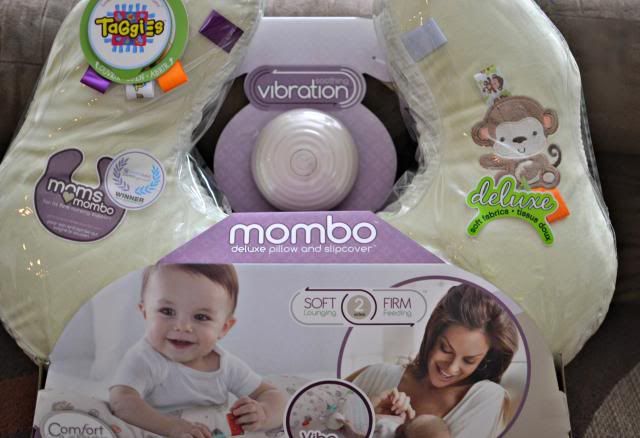 Featuring Firm2Soft™, 2-Sided construction, it is uniquely designed to offer distinct benefits on each side. The firmer side is offered for support during feeding. The firm pillow and snug fit help relieve some of the weight endured by the back and arms during feeding. Not only is this great for breastfeeding Moms, but is useful for support, and elevation, for formula feeding Moms as well. And don't forget the Mombo can also be used by siblings to help aid them in feeding their baby brother or sister.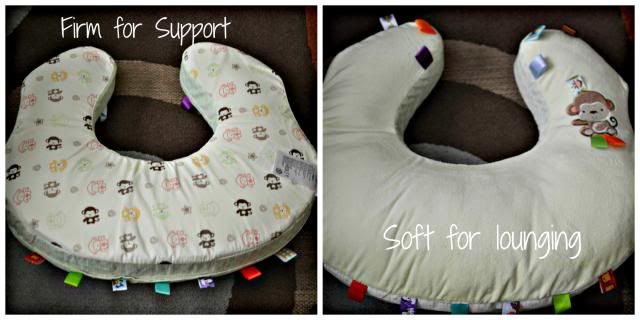 The soft snuggly side is used for just that. Snuggling! The soft side creates the perfect environment for lounging and supporting baby during periods of play, growing with your child. As your child grows you can introduce the mombo nursing pillow for support during tummy-time or to assist your little sitter, helping develop muscles and preventing those backward tumbles. You'll also notice "taggies" on the outer brim of the Mombo. These colorful, silk like tags are perfect for little hands to explore. If you have a little one you know they somehow always find their way to the tags.
Taking it a step further the mombo nursing pillow also has an optional soothing vibrate feature. A vibrating bouncer is usually my gift of choice for expectant Moms because of how helpful they were for my own kids. There is just something about that vibration that they found so incredibly soothing. I think Comfort & Harmony was spot on giving parents the additional option of vibration within this pillow.
To activate the optional vibration, simply insert a single "C" battery into the vibration back, and place the pack in the pillow pocket. Again this is optional. So if unlike my child, yours isn't comforted by vibration for any reason, you can just skip the vibration all together.
Buy It: Purchase the Comfort & Harmony Mombo Deluxe Nursing Pillow exclusively at Babies R US for the SRP of 39.99 - $54.99. Additional slipcovers for the Mombo are also sold for the SRP of $10.99 each, making your Mombo cover washable and your pillow stylish and fun for Mom and baby.
For more information on the Mombo check out Comfort & Harmony on Facebook or follow Comfort & Harmony on Twitter