The weeks leading up to my kids heading back to school are always a bit stressful for me. As hard as I try to get a jump on things, I'm always left scurrying around for last minute essentials. My children's school is what I call semi-uniformed, as they can wear any style solid bottoms, but must wear either solid or striped polo tops.
Shopping for a Tween
The fact the my kids could only wear polo tops use to help keep my costs down, but since there is a lot of leeway within the dress code guidelines, as my boys got older, they started to find their own styles and ways to express themselves. Now even though their tops can't be anymore fancy then stripes, they are allowed a pocket sized logo – here comes my downfall. See, my boys have reached that age were the "label" is becoming important and if they can proudly display that label, by means of a logo and designer jeans, they would prefer to do so.
I remember very clearly being their age and when style became important to me, I get it, but that doesn't mean I can afford it – especially with four kids to buy for. Last year, I came across an amazing department store called Cookies Kids.
Cookies Kids provided me the chance to purchase the latest kids fashions and brand names at more than reasonable prices, Mom could afford.
About Cookies Kids:
In 1972, a young man named Cookie and his brother Marvin went into business together. They rented a 1600 square foot store in Jamaica, Queens, fixed it up, bought inventory and Summer and Fall, and opened a day after Thanksgiving with a full stock of holiday toys. The toys were a success and they put the extra money toward buying children's clothing for the next season. When that did well, they bought more clothing. The business was on it's way.



As the brothers Cookie, Marvin and Sonny, who had come in as a third partner in the business, began to open new stores in new locations, inventory expanded. Besides the latest fashions, our customers wanted shoes, toys, backpacks and accessories and we were prepared to deliver.



By the late 1990′s there were six superstores throughout the NYC area, and though they previously had different names, by that time they were all named Cookie's Kids. Also in the late '90s came an important addition to Cookie's Kids' inventory: school uniforms. It was the steady success in uniform sales that paved the way for founding CookiesKids.com in 2007, which originally sold uniforms and soon after the entire Cookie's Kids Inventory.
Shop Cookies Kids online
All though I know longer live in the NYC area, I don't have to miss out on back-to-school deals at #CookiesKids, I can simply shop their online site.
I did pretty well getting a early start to our shopping this year but, as always, I was not entirely finished. Since we live in Florida and it will be very hot for quite some time, my middle son request additional shorts. And I almost forgot he is the only one I had yet to purchase sneakers for!
With the boys' by my side I took to CookiesKids.com to see what we could find. As soon as I opened the webpage I noticed their clearance section.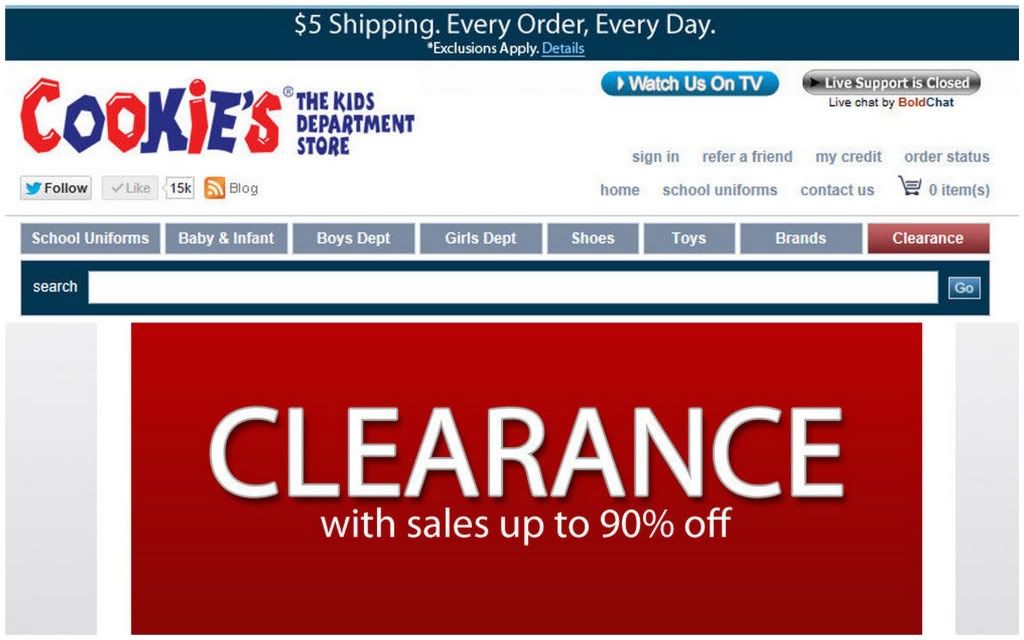 I can never pass up a deal and figured this was a great place to start. The site is easy to navigate and I was able to narrow my selections down to exactly what I was looking for. I couldn't believe all the great dresses available for my daughter for just $3.99, but I was quickly getting off track and trying to keep in mind I was shopping for school.
First, I wanted to find a pair of shorts. I selected my son's size range, chose bottoms and sorted the prices from lowest to highest. I immediately spotted a nice pair of Quad Seven belted shorts for just $6.99.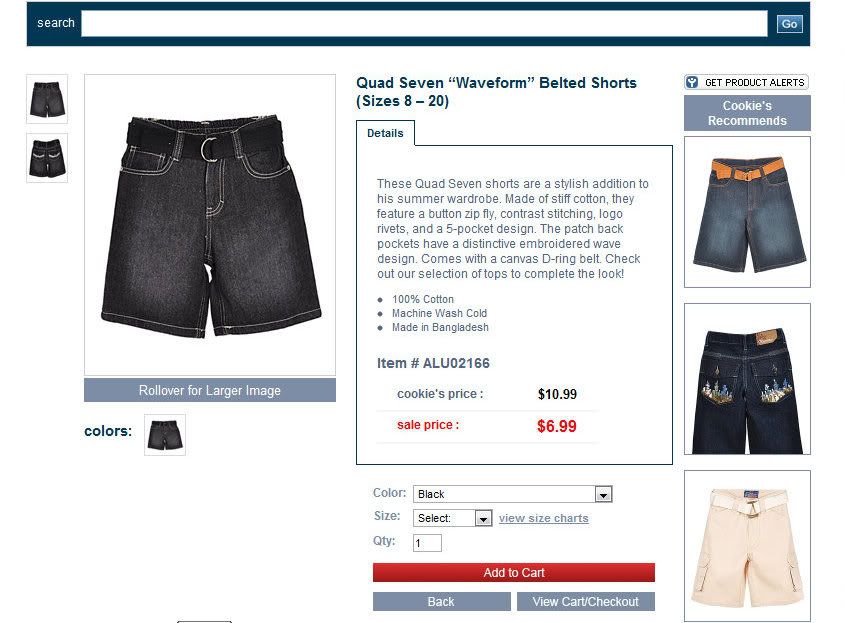 My son likes for his clothes to coordinate well so he insisted on a black polo top to match. I was able to quickly navigate to the boys selection of polo's and found a black American Bulldog Polo for $5.99. Now I just had to find sneakers. Wouldn't you know it, right there in the clearance section were Phat Farm sneakers, which matched well and were just $9.99!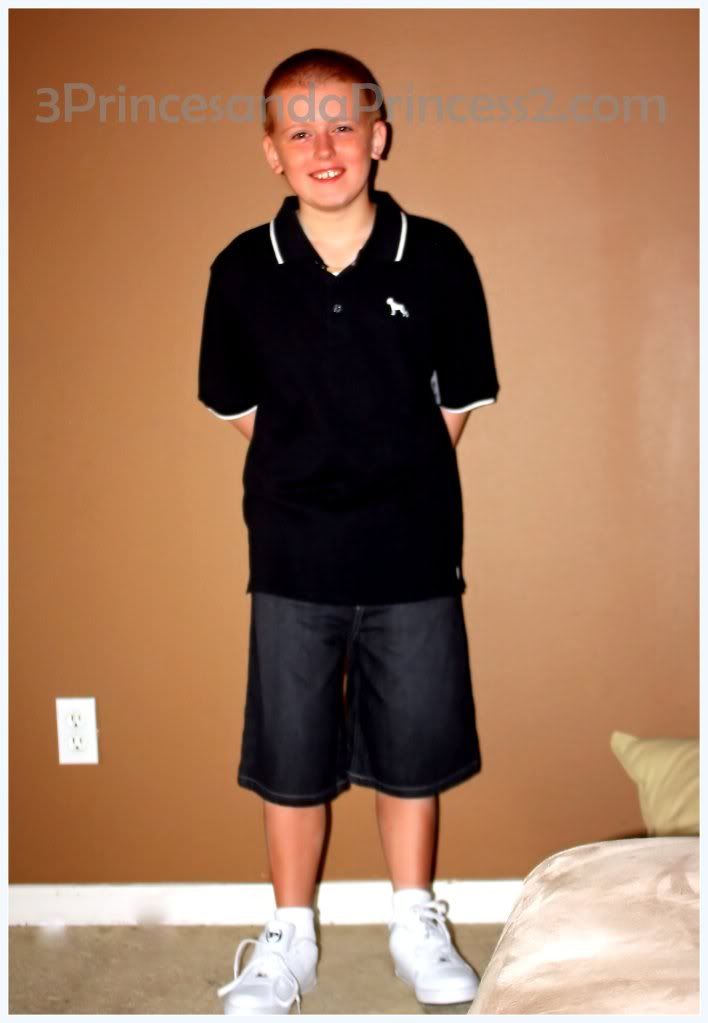 For $22.97 I was able to get my son a complete outfit right down to the shoes.
With my essential shopping out of the way, I had to continue searching to see what I could find for my other two boys. Since they were both standing over my shoulder, I allowed them each to choose a final pair of jeans and polo top for school as well. It didn't take long for them to pick a pair of jeans – Mecca Jeans for just $12.97 and an adorable pair of U.S Polo Assn. belted jeans for $14.99 – now we just had to find tops. My boys' were happy to each choose a suitable polo top to go with their jeans and I was thrilled that they both chose striped polo's by US Polo Assn for $9.99 each.
My order arrived in about a week, in a well labeled box which upon opening included: a coupon code for my next order, shipment list, and even Cookies Kids shopping bags!
All that was left was to make sure everything fit and then they were finally all set for school.
I loved the way everything looked; my only issue was the jeans were too long. Unfortunately, no manner what brand we buy, my kids are in that awkward stage were getting jeans that fit their waist always mean they will be too long. I plan on spending next weekend doing a little hemming.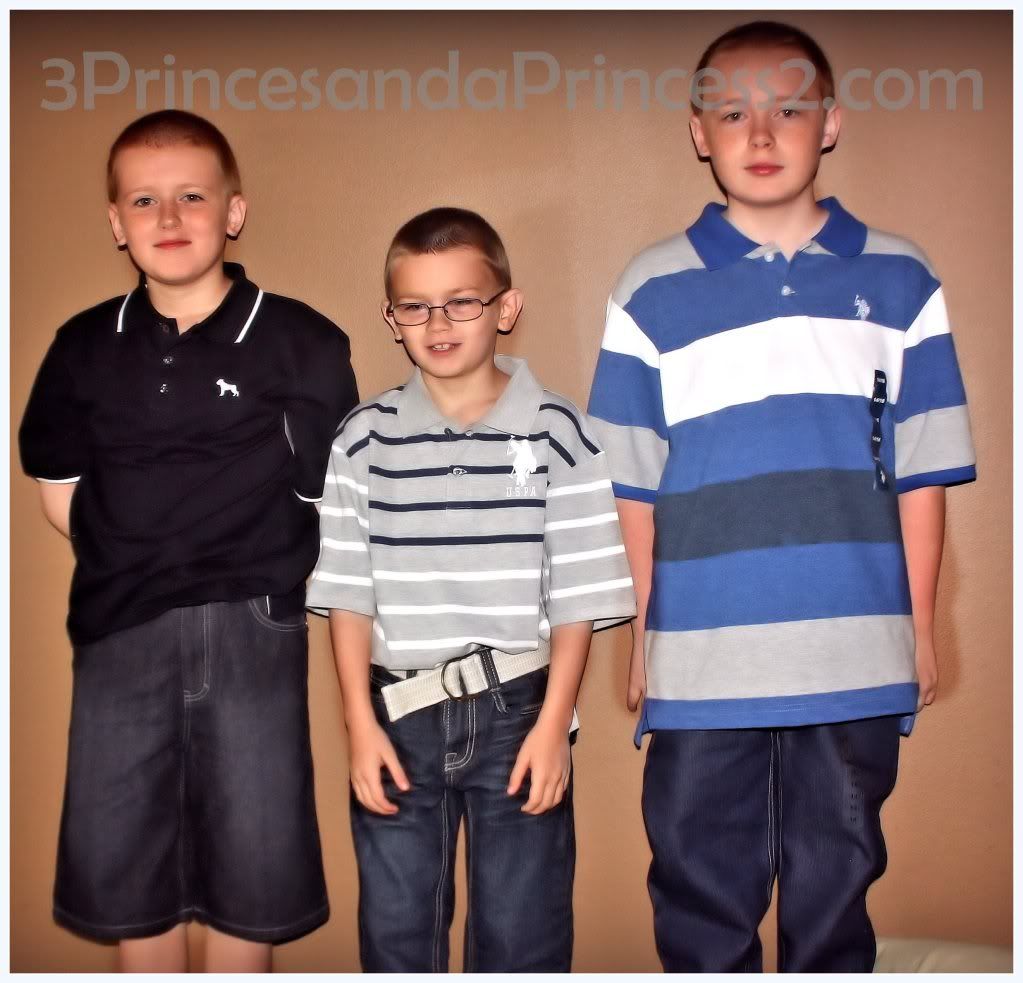 Though we are finally done clothes shopping for back to school, that doesn't mean I won't still be visiting Cookies Kids throughout the year for all their amazing brands and deals. And let's face it, I totally expect mid-way through the year for some new fashion fad to come out that my son just has to be a part of.
What kinds of fashions are your kids into, if any? Any particular style of jeans or brand name they must have?
Stay up to date with Cookies Kids via Facebook and Twitter. Additionally, you can checkout the rest of my Cookies Kids shopping experience by taking a peek at my Google+ album.
I am a member of the Collective Bias™ Social Fabric® Community. This shop has been compensated as part of a social shopper insights study for
Collective Bias
™ and
CookiesKids.com
#CBias #SocialFabric. All opinions are my own and yours may differ.