Welcome to Take Over Tuesday, a Facebook and Twitter hop, hosted by
Closer to Lucy
,
The Thrifty Things,
3 Princes and a Princess 2, and Have Sippy Will Travel
Each week we will have either a Twitter or Facebook Hop.

This week, it's Facebook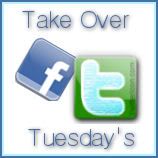 Leave your facebook link in the linky and follow the hostesses. We will follow you back.
Follow as many people as you like and comment them to let them know your a new follower. Remember, following back is appreciated! Also Likes form fan pages do not count. You must like from a personal page for a like to count.
>
That is when the obsession began and continues still!
When I started researching cloth diapers and baby wearing I came across lots of blogs and knew this was something I would love to do. I enjoyed meeting and getting support from fellow cloth diaper fanatics! When I started my blog just a few short months ago I knew I wanted to be able to share stories about my family as well as provide reviews and giveaways of items that other Moms would love and even some items that would make the world a better place to live. I have been putting forth a lot of effort recently trying to grow my blog and my goal is to be "A blogging SUPER Mom" and share my experiences and opinions with others. I invite you to come by my blog and follow my journey being a Mommy and wife all while proving my family and friends wrong who thought cloth diapering was all about pins and plastic pants!
Blog- www.growingfromthreetofour.wordpress.com
get the InLinkz code