Welcome to" Thursday's Cup Of Joe" Blog Hop.
Hosted by 3 Princes and A Princess 2 , Yes I Have A Coupon, and The Thrifty Things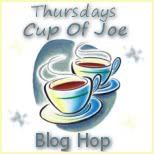 Welcome to the Thursday Blog Hop "Won't you stop by for a cup of Joe"

The rules are easy. To be in this hop just follow both hosts. Following publicly is always nice. I do follow back, just please leave a comment so I can do so :) Also any and all Spam will be deleted! Only direct links to your blogs home page will be accepted.

Each Week a blog will be chosen to be the Spotlight blog of the week. It would be wonderful of you to follow them as well and stop by and say hello!
Feel free to grab our button, Tweet about this hop or Grab the Hop code!
This weeks spotlight is Ro:
Hi I'm Ro ... a busy soccer going, mini-van driving, chocolate chip cookie baking, work from home mom. I'm married to a wonderfully supportive husband, Martin, with 3 adorable kids, William, Shayna & Emily.
After playing the Mommy game for 9 years now, I've learned a thing or two about staying sane! Yup ... I've sure lost it a few times. I've had my moments ... but I've learned the importance of each day doing something for ME ... each day having a Mom-ME Moment.
I created the MommyMindSpa.com to share with you what I've learned. So come on into the Mommy MindSpa, and get ready to focus on YOU for just a few minutes each day. See ya there!
get the InLinkz code