Welcome to" Thursday's Cup Of Joe" Blog Hop.
Hosted by 3 Princes and A Princess 2 , Yes I Have A Coupon, and The Thrifty Things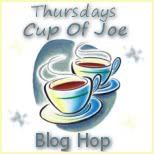 Welcome to week eleven of the Thursday Blog Hop "Won't you stop by for a cup of Joe"

The rules are easy. To be in this hop just follow both hosts. Following publicly is always nice. I do follow back, just please leave a comment so I can do so :) Also any and all Spam will be deleted! Only direct links to your blogs home page will be accepted.

Each Week a blog will be chosen to be the Spotlight blog of the week. It would be wonderful of you to follow them as well and stop by and say hello!
Feel free to grab our button, Tweet about this hop or Grab the Hop code!

This weeks guest host is
Brett from This Mama Loves Her Bargains.
I'm Brett, aka Queen B, and I began This Mama Loves Her Bargains in 2010 as a way to share deals I found with friends and family. It quickly became much more than that and the longer I do it, the more fun it is. I actually just returned home from Los Angeles where I spent several days with 19 other mom bloggers attending Disney & DreamWorks events including the red carpet Hollywood premiere of Cars 2. I have 3 little ones- soon to be 6, 4 and 2, and I'm mostly a stay home mom and often a blogger. In my "spare" time I like to find more ways to be kind to our earth, love to take pictures, gardening and crafts.
Have a great Thursday!
get the InLinkz code