Welcome to" Thursday's Cup Of Joe" Blog Hop.
Hosted by 3 Princes and A Princess 2 , Yes I Have A Coupon, and The Thrifty Things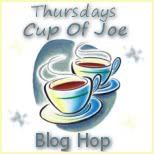 Welcome to week ten of the Thursday Blog Hop "Won't you stop by for a cup of Joe"

The rules are easy. To be in this hop just follow both hosts. Following publicly is always nice. I do follow back, just please leave a comment so I can do so :) Also any and all Spam will be deleted! Only direct links to your blogs home page will be accepted.

Each Week a blog will be chosen to be the Spotlight blog of the week. It would be wonderful of you to follow them as well and stop by and say hello!
Feel free to grab our button, Tweet about this hop or Grab the Hop code!

This weeks guest host is Darcy From Tales From The Nursery!
On Tales From the Nursery, Darcy shares her experiences as a first time mom, her adventures in breastfeeding and cloth diapering, and her thoughts on a variety of products. It's been an interesting transition from working full-time to stay-at-home mom, but her and her husband make it work. If you are looking for a little bit of random mixed in with honesty - in personal and non-personal posts alike - you may enjoy visiting the nursery for a bit. Darcy is also quite attached to her phone, so you can often reach her on Twitter. Oh, and she has an obsession with giveaway events - entering and participating in them!
Thanks!
Darcy
Have a great Thursday!
get the InLinkz code