You have probably heard me mention, as well as seen the cute little button on my sidebar...Well the "2 Princes Birthday Event" is almost here.... Starting February 18th!
Now is your chance to grab the button early and leave a comment here letting me know you have it posted and earn some extra entries.
I will be featuring some great reviews and giveaways from sponsor such as ATG Stores, CSN, Step2, Neat Oh!, Skitter Toys, Wilton, Hasbro, Bandi, Zooper, Boon, Imagination Playhouse, Safety First, Britax and much much more!!
So grab the button and earn your extra entries now into the birthday bash before this post closes on the 17th.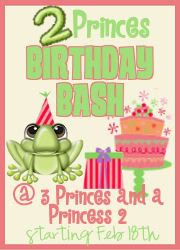 2ns chance voting: Also For additional 3 entries binto any giveaway from start to finish of the bash. You may head over to the Bissell Website and Vote for my dog Bella HERE. Entries valid only until 3/01 Please leave the email you voted with.