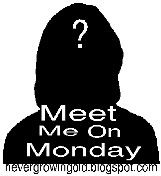 Questions:
1. What do your normally eat for breakfast
?
Nothing, I'm not a big breakfast person.
2. What kind of car do you drive?
Would you believe as a Mom of 4....I don't drive
Never have, never learned, and now I am to scared.
3. Have you ever met a famous person(s)?
Some soap guy when I was like 10. IDK even now who he was my Mom made me go to a autograph signing. I think his characters name was Andrew if that helps..lol
My husband on the other hand has been inside many celebrity houses for work.
4. What is your favorite ice cream flavor?
Chocolate peanut butter..mmm
5. Which TV Channel do you watch the most?
Would have to be ABC or MTV ( yes i still want my MTV)