I was given the opportunity to review a wonderful first aid product
StaphAseptic
. I received this product just in time, as my daughter took a nasty spill in the parking lot of Disney as we were leaving.
When we arrived home I re washed her poor lil cut up knee and applied the StaphAseptic. As a Mom I truly appreciate the fact that it's a "non-Sting" product. Gia was great about it. And being it contains lidocaine it helped numb the pain, as well as it helped prevent infection.
About StaphAseptic:
Staphaseptic is a greaseless, non-staining gel that provides soothing minor wound care without stinging. StaphAseptic is ONE tool in the fight to help prevent skin infections caused by bacteria such as MRSA ad other germs.
Staphaseptic is a prevention tool in helping to prevent infections caused by bactria's such as MRSA, staph, etc. StaphAseptic is
NOT
a a treatment for existing infections and should not be used as one.
As always StaphAseptic should be used on minor cuts, burns and scrapes, not those requiring medical attention.
As a Mother I am of course always concerned when my child gets injured in any form. As a Mom I am also willing to take any steps that will help prevent my child from becoming ill. So remember Mom's it is essential to treat minor wounds not requiring medical attention with an effective first aid products such as StaphAseptic.
Also it can never hurt to take these additional steps to help prevent bacterial infections:
Cover wounds
Exclusively using personal items like towels, soap, razors, etc
Showering after physical activities
Keeping hands clean
Don't forget to always consult a physician if you suspect an infection.
For additional Staphaseptic product information you can visit them HERE.
StaphAseptic has also sent along a 1$ off coupon for my readers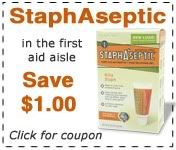 BUY IT:
You can pick up StaphAseptic at your local drugstore
WIN IT:
Tec Labs was nice enough to offer my readers a tube of StaphAseptic
To enter visit StaphAseptic and tell me something you learned. Mandatory for additional entries to count
Additional Entries: Leave separate comment for each entry. If your email is not visible on your profile, please provide it. If I can't contact you, you can't win
Follow me (2 entries)
Follow me on Twitter ( 1 entry)
Like StaphAseptic on Facebook ( 2 Entries)
Subscribe to my blog via email ( 2 Entries)
Tweet this giveaway~ You may tweet once a day for additional entry daily
"RT Win StaphAseptic FirstAid Treatment @crystalnjoe1105 http://tinyurl.com/232jm6u"
Grab my button (2 Entries)
Giveaway ends 6/28/10 at 11:59 pm. Winner will be chosen by random number.org. Winner has 48hrs to respond or new winner will be choose.
This was not a paid post, honest opinions were used. These opinions are solely mine and yours may differ. Thank you Lab Tech who supplied the product
Thank you to those who entered the winner was
tina reynolds said...# 25